Brief Research Overview

Human-robot interaction (HRI) is the study of how robots can interact with humans in a flexible and smooth manner. The SMART Lab's research on HRI started with work on assistive robots for blind travelers when Dr. Min worked on the NSF/NRI project at Carnegie Mellon University, and has continued through our independent research on robotics and AI, including collaborations with other research groups in interactive computing, cognitive science, psychology, and human factors. Our research on HRI covers a wide range of topics, including human-multi robot systems, human-multi robot/swarm interaction, human-robot teams, affective computing, social robots, human-machine interfaces, and assistive technology and robotics.

You can learn more about our current and past research on human-robot interaction below.
Human Multi-robot Systems (2018 - Present)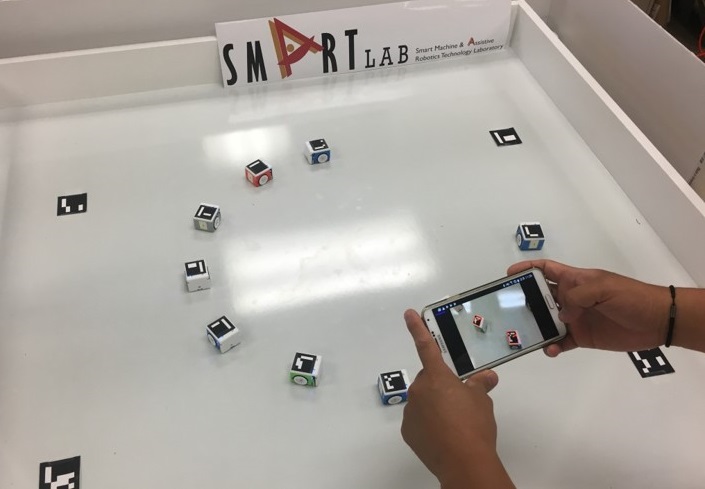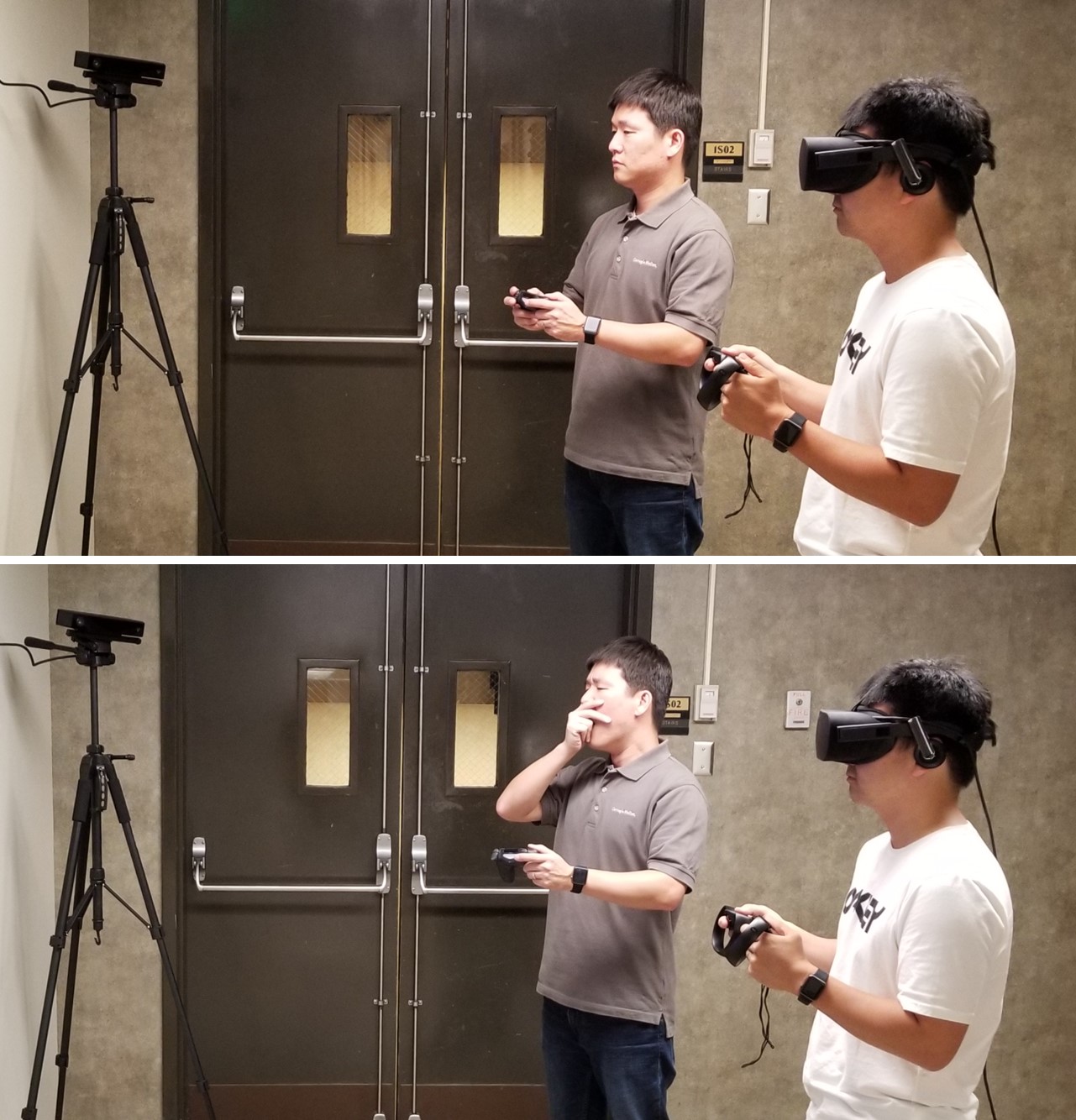 Description: Human multi-robot systems and multi-human multi-robot interaction is a relatively new area of research that focuses on the interaction and collaboration between humans and multiple robots. Well-designed systems can enable a team of humans and robots to work together effectively on complex and sophisticated tasks such as exploration, monitoring, and search and rescue operations. The SMART Lab has gained extensive knowledge in this area through research on multi-robot systems and robot swarms, human-robot interactions, and assistive technology/robotics. Currently, we design algorithms and systems to enable multiple robots to collaborate with each other in a distributed manner and flexibly interact with humans in any situation, anywhere. We also develop applications that can take advantage of human multi-robot systems. Through this research, we envision a future where anyone (e.g., people without experience in robot control or people with disabilities) and robots (few or many) can work together on various practical tasks.

Grant: NSF (IIS), NSF (CMMI)
People: Wonse Jo, Go-Eum Cha, Ruiqi Wang, Jeremy Pan, Revanth Krishna Senthilkumaran, Vishnunandan Venkatesh
Project Website: https://polytechnic.purdue.edu/ahmrs
Selected Publications:
Affective Computing (2019 - Present)


Description: The estimation of human affective states such as emotional states and cognitive workloads for effective human-robot interaction has gained increased attention. The emergence of new robotics middleware such as ROS has also contributed to the growth of HRI research that integrates affective computing with robotics systems. We believe that human affective states play a significant role in human-robot interaction, especially human-robot collaboration, and we are conducting various research on affective computing, from framework design to dataset design/creation and algorithm development. For example, we recently developed a ROS-based framework that enables the simultaneous monitoring of various human physiological and behavioral data and robot conditions for human-robot collaboration. We also developed and published a ROS-friendly multimodal dataset comprising physiological data measured using wearable devices and behavioral data recorded using external devices. Currently, we are exploring machine learning and deep learning-based methods (e.g., using Transformer) for real-time prediction of human affective states.

Grant: NSF
People: Wonse Jo, Go-Eum Cha, Ruiqi Wang, Revanth Krishna Senthilkumaran
Project Website: https://polytechnic.purdue.edu/ahmrs
Selected Publications:
Human-Delivery Robot Interaction (2019 - Present)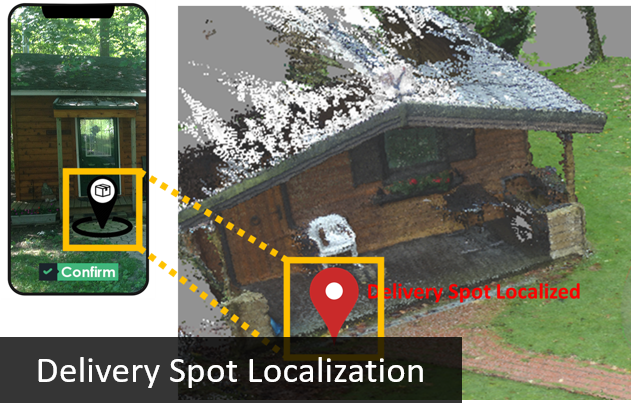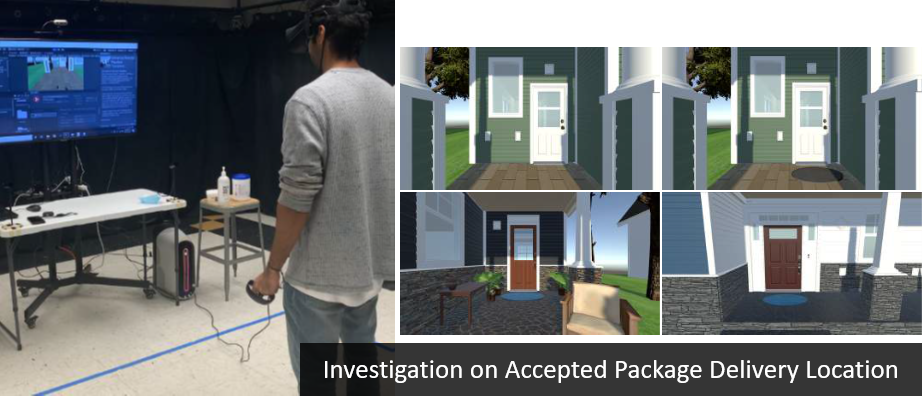 Description: As delivery robots become more capable and necessary for quick and economic delivery of goods, there is increasing interest in using robots for last-mile delivery. However, current research and services involving delivery robots are still far from meeting the growing demand in this area, let alone being fully integrated into our lives. The SMART Lab investigates various practical and theoretical topics in robot delivery, including vehicle routing for drones, localization of a requested delivery spot, and social interaction between package recipients and delivery robots. To do this, we use mathematical methods to solve optimization problems and conduct experimental methods based on user studies. We expect that this research will play a major role in enabling delivery robots to deliver packages more intelligently and effectively, like professional human couriers, and that it will improve human-delivery robot interaction while increasing robot autonomy.

Grant: Purdue University
People: Shyam Sundar Kannan, Ahreum Lee

Selected Publications:
Assistive Technology and Robots for People who are Blind or Visually Impaired (2014 - 18)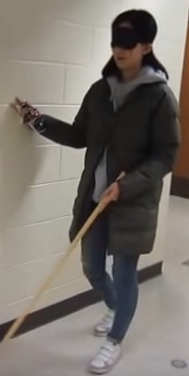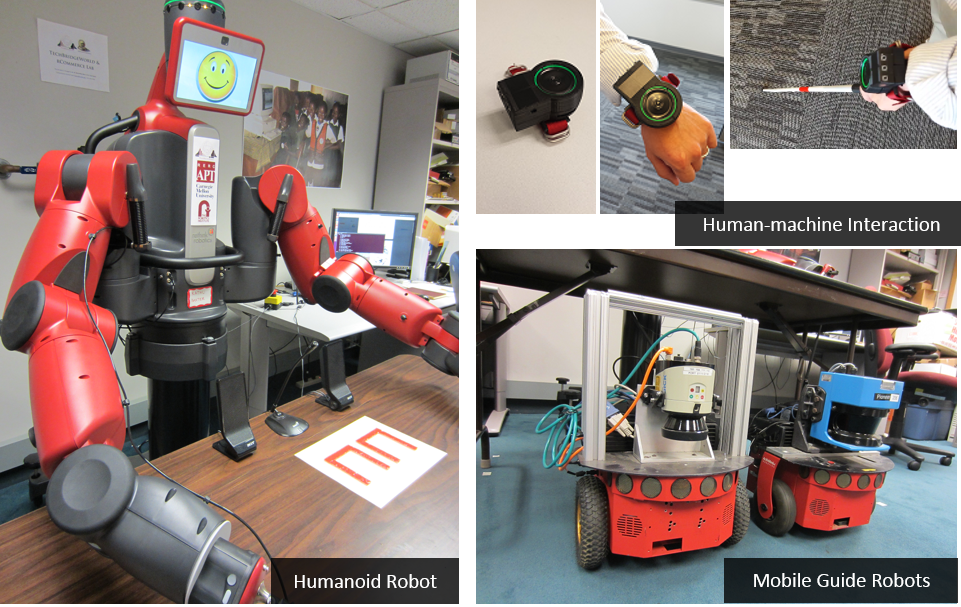 Description: The World Health Organization (WHO) estimates that 285 million people in the world are visually impaired, with 39 million being blind. While safe and independent mobility is essential in modern life, traveling in unfamiliar environments can be challenging and daunting for people who are blind or visually impaired due to a lack of appropriate navigation aid tools. To address this challenge, the SMART Lab investigates practical and theoretical research topics on human-machine interaction and human-robot interaction in the context of assistive technology and robotics. Our primary research goal is to empower people with disabilities to safely and independently travel to and navigate unfamiliar environments. To achieve this, we have developed improved and appropriate navigation aid tools that will enable visually impaired people to travel unfamiliar environments safely and independently with minimal training and effort. We have also introduced an indoor navigation application for a blind user to request help based on emergency and non-emergency situations.

Grants: Purdue University
People: Yeonju Oh, Manoj Penmetcha, Arabinda Samantaray

Selected Publications:
Assistive Technology and Robots for Children with Autism Spectrum Disorder (ASD) (2015 - 17)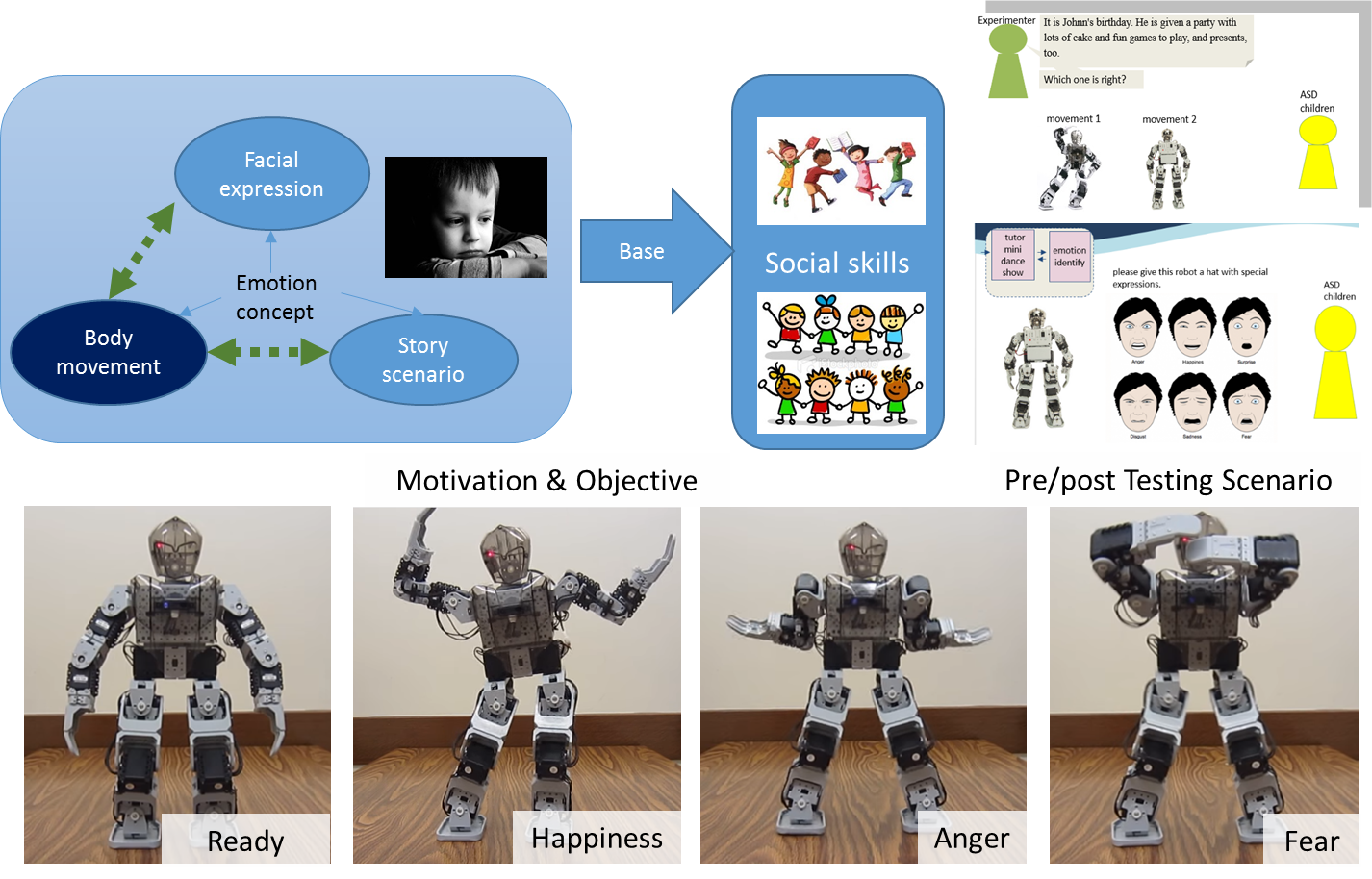 Description: Autism spectrum disorder (ASD) is one of the most significant public health concerns in the United States and globally. Children with ASD have impaired ability in social interaction, social communication, and imagination and often have poor verbal ability. Several approaches have been used to help them, including the use of humanoid robots as a new tool for teaching them. Robots can offer simplified physical features and a controllable environment that are preferred by autistic children, as well as a human-like conversational environment suitable for learning about emotions and social skills. The SMART Lab is designing a set of robot body movements that express different emotions and a robot-mediated instruction prototype to explore the potential of robots to teach emotional concepts to autistic children. We are also studying a technical methodology that can be easily deployed in the daily environment of children with ASD and teach language to them at low cost, based on embedded devices and semantic information that can be extended to a cyber-physical system in the future. This method will provide verbal descriptions of objects and adapt the level of descriptions to the child's learning achievements.

Grants: Purdue University
People: Huanhuan Wang, Pai-Ying Hsiao, Sangmi Shin
Selected Publications:
Sangmi Shin, Byung-Cheol Min, Julia Rayz, and Eric T. Matson, "Semantic Knowledge-based Language Education Device for Children with Developmental Disabilities", IEEE Robotic Computing (IRC) 2017, Taichung, Taiwan, April 10-12, 2017. Download PDF
Huanhuan Wang, Pai-Ying Hsiao, and Byung-Cheol Min, "Examine the Potential of Robots to Teach Autistic Children Emotional Concepts", The Eight International Conference on Social Robotics (ICSR), Kansas City, USA, Nov. 1-3, 2016. Download PDF